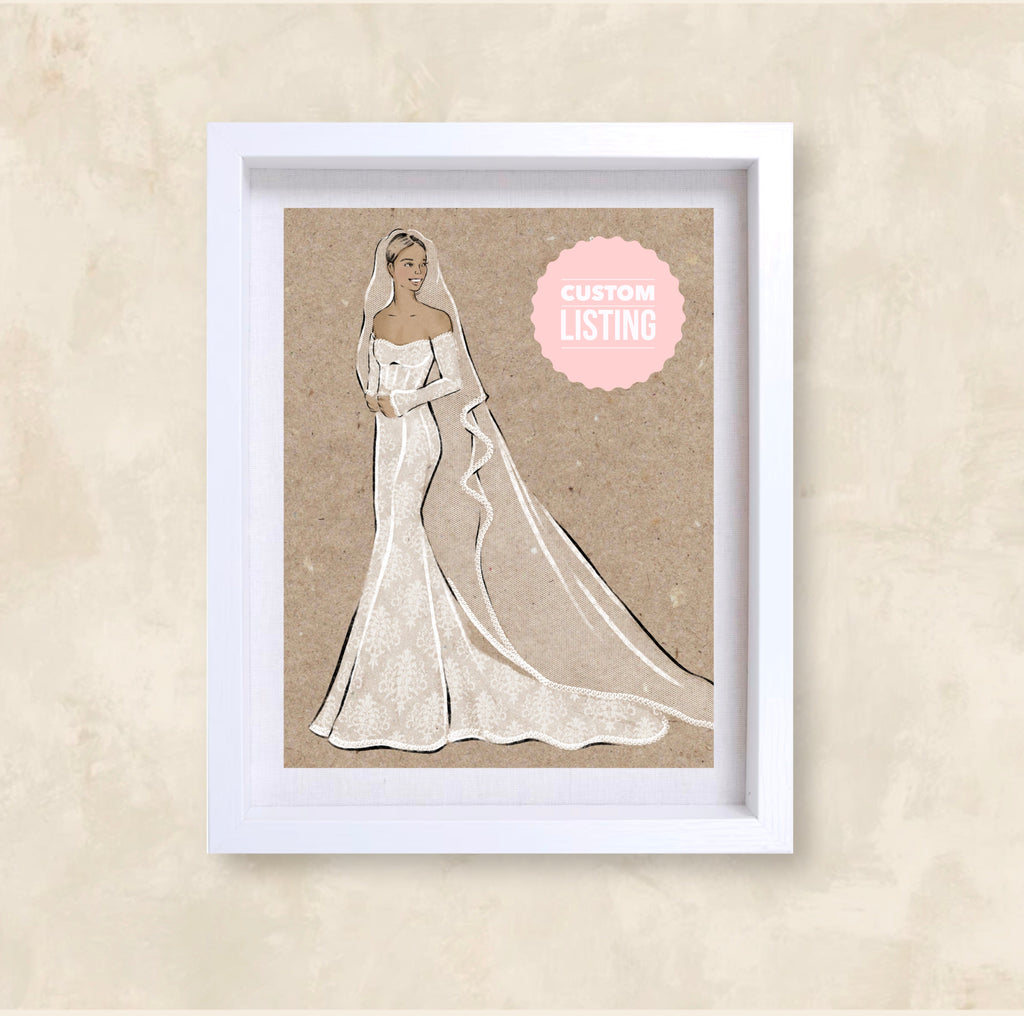 Custom Bridal Illustration & Live Event Sketching for Lyn
$ 187.50
Service Details:
Custom Bridal Illustration:
Who: Bride in wedding gown
What: 8 ½" x 11" framed custom bridal mixed media illustration
When: Rough draft to be done at final fitting, final draft date to be determined
Cost: $125.00
Live Sketch:
Who: Wedding guests
What: Black & white fashion sketch on either 4"x6" or 5"x7" paper
When: During the reception, 6:00 – 10:00pm
Where: A designated space near the entrance.

Venue will provide a 36" table and a chair. I will bring my supplies and an easel displaying examples of my fashion illustrations.
Cost: $500.00 ($100 per hour plus setup time)
Note: Each sketch will take approximately 8 minutes, and we aim to sketch as many guests as possible during the 4-hour time slot. Maximum 2 person per sketch. 
Terms & Conditions:
1) Artistic Process Documentation:
I have your permission to capture video and photos of my artistic process, for promotional purposes, on social media and our website.
2) Delivery and Shipping:
Your completed custom bridal illustration will be shipped to the address you provided.
Shipping costs are included within the total cost quoted.
3) Timeframe:
The timeline for completion of your custom bridal illustration will be communicated during the order process and is subject to change based on workload and complexity.
6) Satisfaction Guarantee:
I am committed to delivering a product that meets or exceeds your expectations. If you encounter any issues with your illustration, please contact us within 7 days of receipt to discuss potential resolutions.
7) Copyright and Ownership:
The custom bridal illustration remains the intellectual property of Keepsake Couture.
You may use the illustration for personal use and display, but commercial use, reproduction, or distribution for profit is strictly prohibited without prior written consent.
8) Liability:
While I take utmost care in creating your custom bridal illustration, Keepsake Couture shall not be liable for any damages, loss, or injury arising from the use or display of the illustration.
*By engaging with Keepsake Couture, and making the down payment, you acknowledge that you have read, understood, and agreed to these terms and conditions. My goal is to provide you with an exceptional experience and a beautiful keepsake that captures the essence of your special day.
For any questions or concerns, please feel free to contact us.
Related Products